World Autism Awareness Day 2016 Highlights
April is World Autism Awareness Month, and on the 2nd of April, we celebrated World Autism Awareness Day. It was a huge day of celebrating and accepting autism, as well as spreading hope and awareness.
Our team, along with a dedicated team of volunteers from UCSI volunteers, started the day with some set up, making sure that whoever walked in later that morning would have a memorable day.
We launched the event with one of our kiddos counting down to the release of 100 blue balloons into the air. It was definitely a moment to remember.
We then kicked of Malaysia's first ever Paint For Autism project! This was where teams of 3-4 painted individual blocks according to the guides given, and these 30 blocks were later assembled to reveal a bigger picture. The atmosphere was buzzing with excitement as people were guessing what their painting would be a part of.
The day then continued with everyone going into the hall for the main event. One of our boys, together with his co-host Deborah Henry, former Miss Universe Malaysia 2016, were emcees for the event. It was without a doubt a proud moment for our team and the boy's parents.
The main event kicked off with a parent dialogue session, where three parents of children with autism shared their journey and experiences, along with some encouragement.
UCSI University then did a 10 minute presentation on Different Forms of Expressive Arts Therapy, right after a speech by Dr Chan, the Dean of UCSI University Psychology Department.
Lastly, we invited Dr Nan, from Wisconsin Early Autism Project to give her presentation on the Latest Findings In Autism. It was an insightful presentation as the audience had a deeper insight on the field of autism.
We closed the main event by inviting the crowd outside, for the much awaited revealing of the Paint For Autism Project!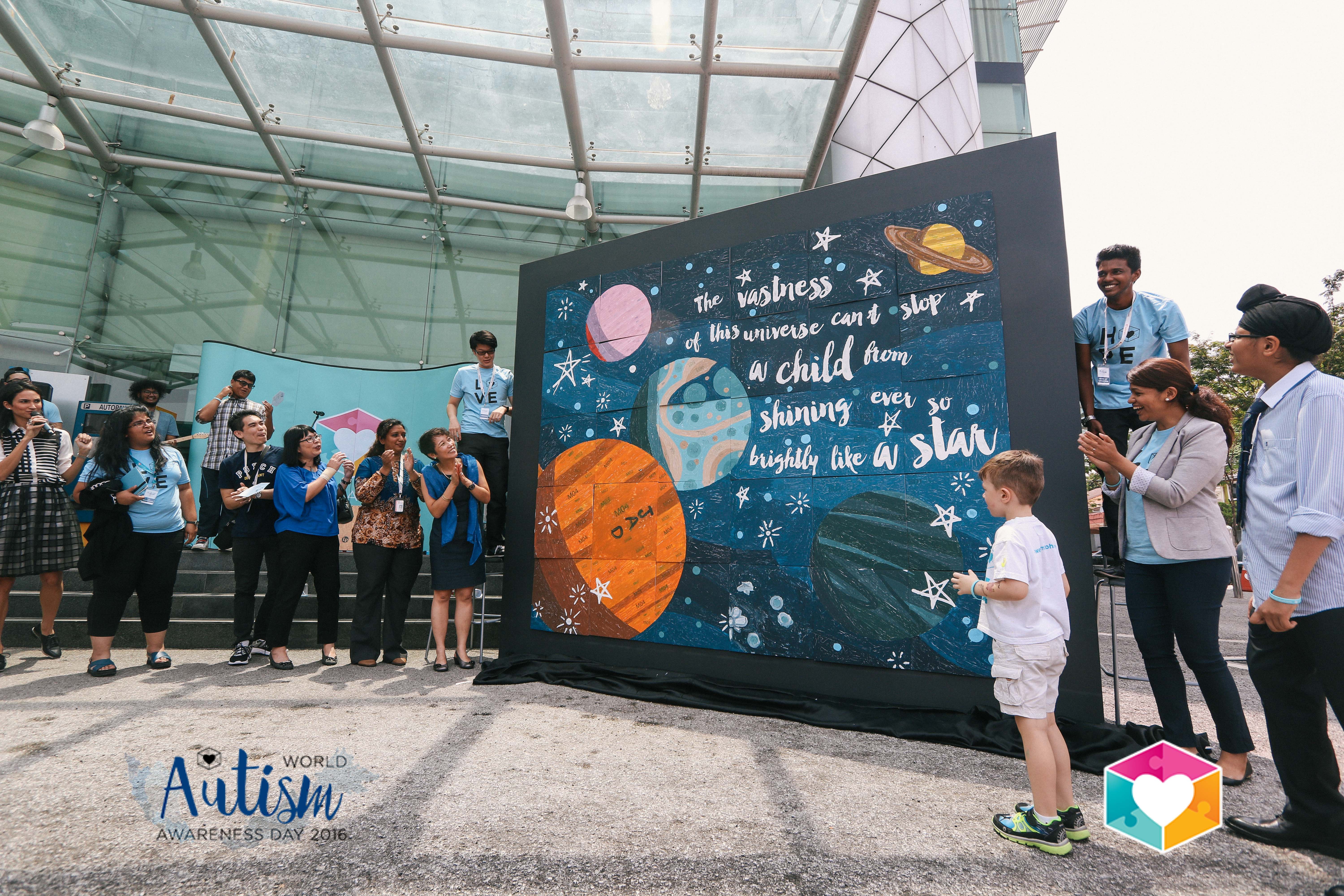 As the quote says, we wanted everyone to know that nothing can stop a child, regardless of their differences, from shining their light in this world. Every child is born different, and for children with autism, it takes many people to understand them, which was the message behind teams painting different individual blocks. It takes many hands to make sense of a child with autism.
Throughout the day, we had a kids' play area, a free screening booth, an exhibition booth displaying our kids' arts and crafts, an engagement activity for people to take part in, booths by different vendors and of course our very own merchandise on sale.
We hope that you have had a wonderful day celebrating World Autism Awareness Day! Share your moments with us by adding the hastags #lovesomeonewithautism and #welcometohope on your photos! A huge shoutout to all our partners, sponsors, volunteers and team for making it happen.
We hope to see you at World Autism Awareness Day next year!